This is how it works:
A purification system is installed to make sure that the quality of the water meets drinking guidelines of Digesa
At the dispensing (or tappoint) a prepaid dispensing unit is placed. This ensures that water is only dispensed when a consumer holds a card against the prepaid dispensing unit.
Prepaid cards can be charged according to your cost setup, e.g.:

Families pay nothing but get a card with a limited amount of water credits
Families pay S/. 0.05 per litre, for those who can afford it
Families pay as high as is reasonable to create jobs and other benefits

A profesional Point-of-Sale terminal that can be used anywhere in the world allows an authorized person to charge the pre-paid card.
Advantages:
Provide access to purified water to everyone independent of income;
Make sure the cost of operating the purification installation is earned back. Imagine a cost of S/. 0.02 per litre
A sustainable solution is reached: people have access to something basic --> clean water; and pay for it in order for another person to earn an income
Further benefits
Improved health that is by far the biggest benefit by something so easy to be achieved
It is great for the environment, no more waste of plastic bottles!
The prepaid cards contains all the information of the person (family) owning the card. This means how much water the person tapped, when and where.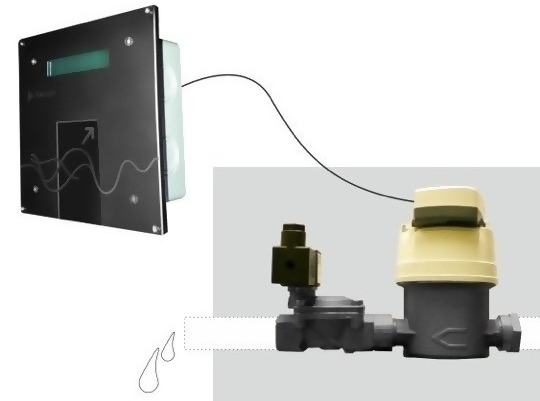 Prepaid for drinking water
The charged NFC card is placed onto the detached unit to draw drinking water from the tap. The card allows the water to flow and deducts the volume drawn from the credit on the card.
Authenticate, place NFC card, enter amount and press ok. It is that easy. But still so much is happening in the backround. Because we protocol every transaction safely encrypted to ensure transparency of all sales in the everyday operations.
Designed for water kiosks
Our detached dispensing controller unit can be integrated in existing water kiosks. Easily accessible from outside it is connected by cable to the valve and meter inside.
Our management software gives you an oversight over all transactions in the field. The logs from the PoS-T are transferred to the computer via USB. You see all charges made to cards and the responsible seller.